Aerial Roof Inspections
When purchasing a home or commercial building, it's important for potential buyers to get an accurate assessment of the roof. Don't be caught unawares, having to pay for expensive repairs or, worse yet, a new roof. The certified inspectors at The Real Estate Inspection Company will provide the facts you need in our roof inspection report. Contact us at (800) 232-5180. We serve San Diego and the surrounding areas with our inspection services.
Most home inspectors can't (or won't) inspect a roof that is covered with concrete or clay tiles, is wet, or is more than 12 feet high. This excludes any two-story roofs from most inspections. At The Real Estate Inspection Company, all of our inspectors show up prepared to inspect roofs that many other home inspectors won't. Our aerial roof inspection reveals the condition of hard-to-reach roofs.
Camera Technology Wins the Day
We utilize custom high-resolution pole cameras that allow us to inspect roofs safely, thoroughly, and completely at no additional fee (a $150 value). This is just one of the many tools available to our inspectors, which allows them to provide you with the best possible evaluation of a house.
More Inspections
Besides roofs, we offer several other inspections for your protection.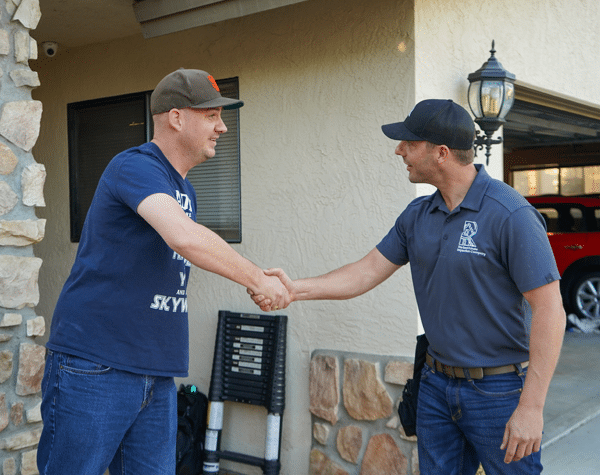 Information-Packed Reports
We're proud of the peer-reviewed, multi-media reports we create for our clients. They contain the following:
Pictures
Embedded videos
Tips
Diagrams
Thermal imaging pictures
Report summary with a list of repair items that functions as a repair list
Insurance information sheet
PDF version of report for emailing and downloading
Overall, we've found that most of our clients get a return of three to four times the cost of the inspection in seller concessions. The combined inspector experience that goes into each report is unmatched in Southern California.
View Sample Report
The QwikFix
But it doesn't end there. We've found a way to deal with one of the most stressful parts of the buying process. Our affiliation with TheQwikFix now makes it easy to get timely quotes and repairs for remediation during escrow, just by clicking a link. You read that right. No more running around in a scheduling nightmare trying to locate contractors. It can all be arranged just by clicking the link embedded in your report email.
Schedule with us Today
From top to bottom, a roof is one of the first lines of defense for your home or building. Understand the condition of yours with a roof inspection from The Real Estate Inspection Company Company. Call us at (800) 232-5180 or schedule now. We service San Diego County, Orange County, and Riverside County.
Schedule Now