What to Expect When Buying a House Built in the 1950's
What you should know about buying a house built in the 1950's. These houses have a great charm about them. The neighborhoods are well established, and these homes are often more affordable than a newer house in a newer development. But just like an old car, there will be some worn parts and features that just didn't exist when the house was built. Often it is not the severity of the items listed in a home inspection report, but the realization that an older home may be very different from what you are used to. Please click below to get the
entire article
.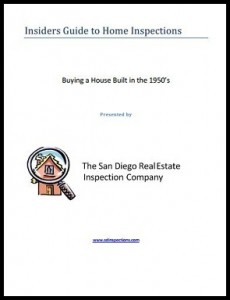 In this excerpt, we will focus on some issues related to buying a house built in the 1950's. This is not meant to dissuade the would be buyer. It is also not an exhaustive comparison of the building codes of sixty years ago compared to today, but rather a general discussion of some of the things that you may find in an inspection report if you are buying a home from that time period. If you are considering purchasing a house built in the 1950's please know that some of these items may come up. Houses built in the 1950's are much simpler than houses built today. Families did not have electronic items all over the house, and therefore older homes have far fewer receptacles. Insulating houses was not really a consideration – especially in Southern California. These houses were built shortly after World War II to accommodate the expanding population. It was during this era that tract housing became popular. Developers built affordable houses very quickly so they could be purchased by GI's returning from war. Construction methods and materials have changed a lot since then. The heating and electrical systems were very basic. They do not include many of the safety features designed into modern systems. And materials that were thought to be very durable back then either don't last for more than 50 years, or turned out to be a health hazard. Forced air heating, 100 AMP grounded electrical systems, insulation, and ABS drain lines only came about in the latter part of the 1960's.  Four items that may turn up on a home inspection report as in need of repair or upgrade are:
Cast Iron Drain Lines

Asbestos (around heating components)

Damaged/deteriorated posts and piers

No insulation
Cast iron drain lines were standard back then. These heavy, durable pipes were assumed to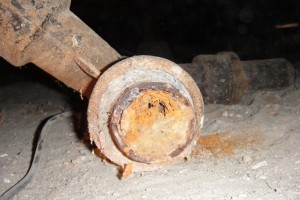 be nearly indestructible. However, they only last about 50 years depending on how they were installed. At best, a properly sloped drain line would last 50+ years. But a pipe that was not sloped properly, and allowed waste to settle in the pipe, often rust through prior to 50 years. Regardless, all those plumbing systems are about 60 years old and will likely need to be replaced. If you are purchasing an old home, always get the drain lines video-scoped by a licensed plumber.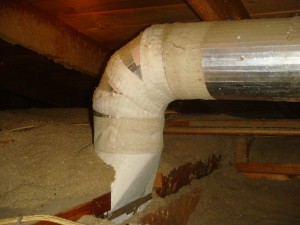 Asbestos was used as a fire retardant. It performs well as an insulating material, too. So it was common practice to use asbestos on the heating system to protect the surrounding wood and insulate the ducts. It was also added to the "popcorn" ceiling texture to make it less flammable. Of course some types of asbestos were found to be a carcinogenic so it is no longer used in homes. Your inspector should recognize materials that may contain asbestos. While you cannot confirm the presence of asbestos just by looking at it, your inspector may suggest that you have it tested by a qualified lab. Another compound that is no longer used is lead. Lead was used in virtually all house paint up until it was banned as an additive in 1978. Typically if the paint is in good condition and not peeling, you can simply paint over it and seal it. If, however, the paint is peeling or flaking, your inspector may recommend testing or at least a professional paint job to seal the paint and reduce the risk of exposure to lead. One final thought on buying a house from the 1950's. That was over 60 years ago! Just like a car, parts in the house wear out. You should expect that some items will be worn, and your inspector may recommend repair or replacement. Many systems will not comply with today's building codes and it is not the responsibility of the seller to bring them up to today's standards. These can include roofing, plumbing fixtures, heating and cooling systems, windows, electrical, appliances, etc. So when buying an older house, take these things in stride. Philippe Heller President The Real Estate Inspection Co.
sdinspect.com