Avoiding Property Damage From Plumbing Leaks
Ever since the first indoor plumbing system was installed, homeowners have had to deal with leaks. Early drain lines were made from metal, often by black smiths, out of lead, steel or brass. Little was
known about hydrolics, venting, or drainage. But indoor plumbing was seen as such an advancement in sanitation that people put up with the poor functionality. Fresh water delivery systems were next. After all, we needed some way to bring fresh water into the house to wash away the waste and bathe. This introduction of a constant source of water has been the frustration of countless homeowners ever since. Pressurized systems often fail causing major property damage. Believe it or not, water can be very corrosive. This is especially true in Souther California. Most of our water comes from far away – either the Colorado River or the Sierra Nevada Mountains via hundreds of miles of aqueducts – that are very similar to the aqueducts of ancient Rome. It slowly eats away at our pipes until, with the help of the pressure, a leak develops. If you don't take care of the plumbing system in your house, you will pay a very high price.
Home inspectors often see plumbing systems and fixtures that are on the brink of failure. In the example here you see an angle stop valve from a 30 year old house. These valves are installed under bathroom and kitchen sinks, and at toilets throughout the house. This one is about as close to failure as you can get without an actual leak occurring. This is the most common item that goes into an inspection report. One slight tap on this valve and water will be pouring into the house. This same corrosion is also frequently observed at the top of water heaters where the water enters the tank, and where it leaves the tank. This is another common source of leaks. Corrosion at the top of water heaters can be easily ignored. Most water heaters are installed on a platform, and you really have to go out of your way to see the top of the tank. You should do this at least once a year. Most of these visible defects are detectable if you just take the time to look. It's pretty easy to see corrosion or rust. But you have to take the time to look for it. A bigger danger is less obvious. Just like high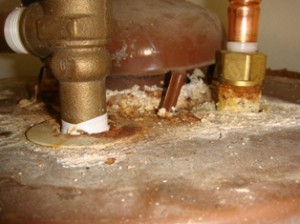 blood pressure, excessive water pressure in your plumbing can be hard to detect. But it is very likely to cause damage. Most fixtures in a house are built to withstand a maximum pressure of about 80 psi. But the street pressure in many neighborhoods in San Diego are up to 120 psi. To maintain a constant pressure in your house, and prevent excessive pressure, most houses have a pressure regulator installed. This is the bell-shaped device that is typically located at the front exterior wall of your house, or in the garage in newer homes. The regulator allows you to set the pressure, and it maintains that pressure for you. But just like all mechanical devices the regulator can fail. The rubber components inside the regulator deteriorate. When they do, the water pressure in your pipes can spike.When buying a house, it is critical to have your home inspector check the water pressure. And you should check the pressure periodically on your own.
filling after a flush. This is due to the high water pressure. Another sign will be faucets that suddenly start to drip when they did not drip before. Or you may hear a water hammer when the dishwasher or clothes washer turns on and off. This is because these appliances turn on and off abruptly. High pressure will cause a water hammer when a valve is slammed shut.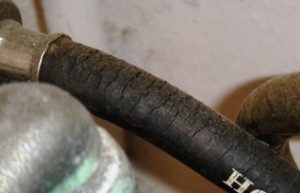 washer. Remember that these hoses are under pressure 24 hours a day.  They are only rated for two years. Most people never change them. You should change these to braided steel washer hoses to reduce the risk of a flood.